Had a great find right around the corner from my apartment in the Lower East Side, a little strip of stores on Orchard between Rivington and Delancey definitely worth a trip!
On my way to work a couple days ago I decided to check out what this little strip I had been eyeing but never actually stopped to browse had within it. At first it is a little overwhelming, the stores seem to spill out into the street and the merchants call out to you to try to entice you into a purchase.
The shoe stores are hit and miss, I'll pass on the pastel square toe crocodile wingtips but these little numbers just sang to me. Patent leather toes and lace section with matte leather bodies. They look wonderful with cropped slacks and no-see socks ( I'm kinda sockless while wearing shoes-aphobic). Nothing like a flash of man-ankle, it's so masculine sexy.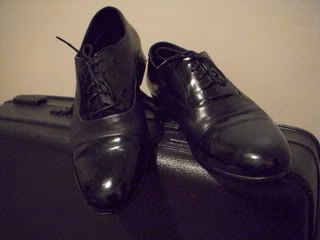 They were originally priced at $160 but the salesman just kept reducing the price because I originally wanted an completely patent oxford and at first had no interest in this particular pair. When I reached for the door and he blurted out $50, They were sold! I love them. So far I've been asked if they are from the Chanel Menswear collection or if they are Lanvin, suffice to say I think I did good!